These screen savers were created using a freeware program called Pineapple Juicer, from some good folks Down Under in Australia. You can visit their web site at:

http://www.pineapplehead.com.au
and download the program at:
http://www.pineapplehead.com.au/pub/text/juicereh.htm#
Sweet Pea's Paint Shop Pro Clip Art CDs -- choose from a wide variety of clip art CDs, from Jungle Safari to Mermaids to Plushies & more. Use to create more original screen savers.

The Plug-in Site -- great place to find wonderful resources for Paint Shop Pro and other graphics programs.
OK, now on with the show!
There are three screen savers here for you. They are shown WAAAAAAY smaller than actual size. If I put them on a web page at actual size, you might be 100 years old before this web page downloaded!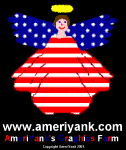 Download
This is my angel logo. It pixels in, bounces across your screen and pixels out.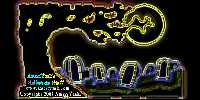 Download
This is from an image on "AmeriYank's Halloween Stuff". It will pixel in, hang around a bit and look eerie, then pixel out.
Download
This is an image from "AmeriYank's Christian Crosses".